Joshua Alfaro, Founder and CEO of the Alisal Community Arts Network, thinks big. Even the acronym provides inspiration: Alisal CAN!
---
Thanks to this driven organization, also known as ACAN, morning, after-school, and Saturday music classes, plus one ensemble and a percussion section, called a drumline, thrive at each of twelve Alisal Union School District (AUSD) schools.
ACAN also sponsors three performing arts ensembles: the Latin Jazz Orchestra, the Marching Winter Percussion Ensemble, the Summer Marching Band, plus piano classes. But that's not all. Thanks to a partnership between ACAN and Community Home Improvement Systems & Planning Association (CHISPA), three town homes in Salinas enjoy free community music classes.
That's one organization connecting more than 1,500 east Salinas children to dedicated instructors teaching guitar, ukulele, hand drums, marimbas, trumpet, violin, recorder, bells, drumline, and color guard.
Alfaro, 35, is a multi-instrumentalist himself. He has played in some the top drumlines in the country, and six ACAN teachers have formal experience with this specialized art. The Alisal Union School District All-Star Drumline, a marching band, is already a fixture on Main Street in most of Salinas' many annual parades, but Alfaro is always looking for ways they can learn and grow.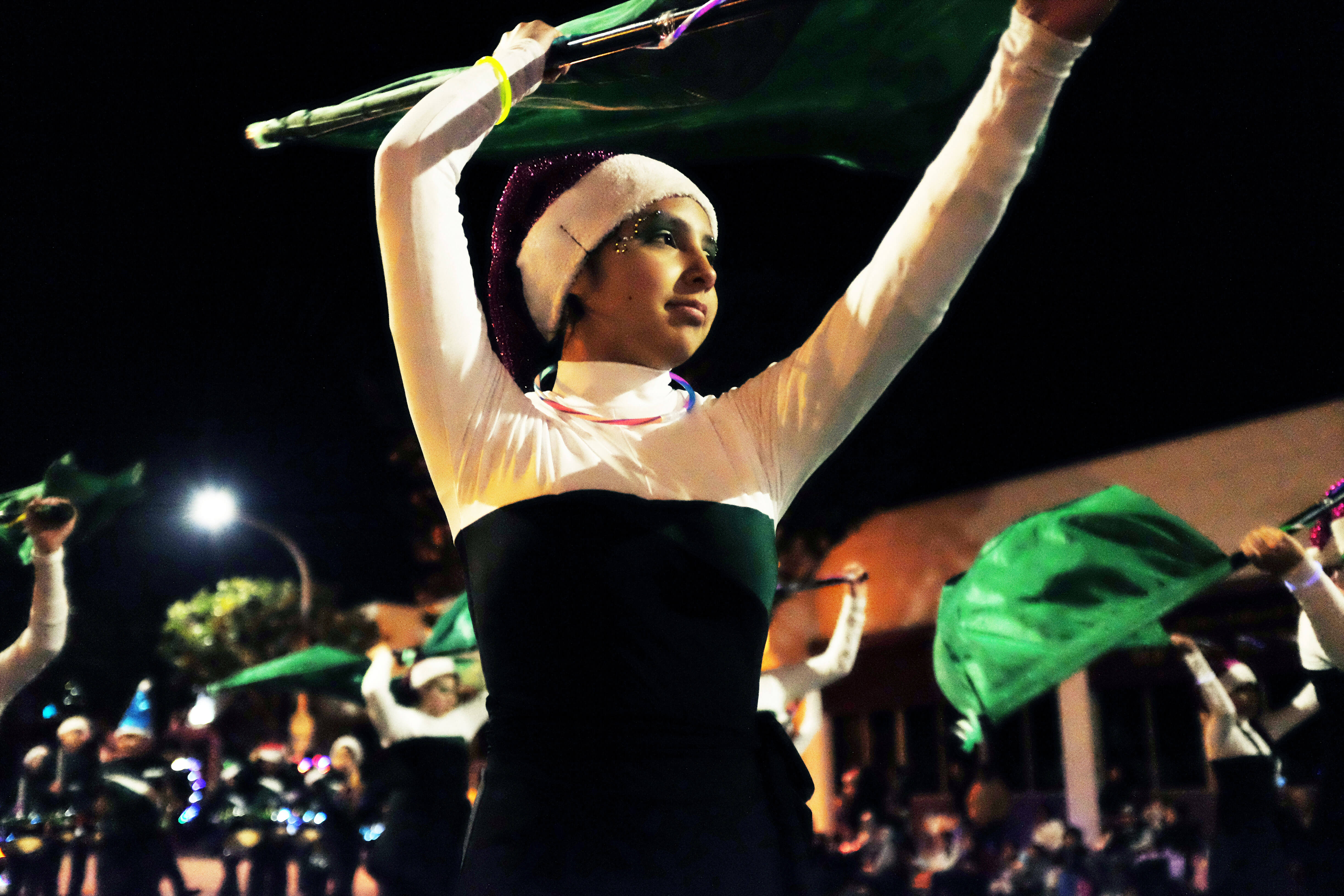 One afternoon in the midst of his packed schedule, Alfaro steps aside to excitedly show a video on his phone of a marching band he likes. The percussion section is thundering away, as they move in perfect sync, in the middle of a college football field. In the video, portable monitors supplement the musical action in the stadium with colors and images.
"Great!" he says, "See, we can do this! All we need is…" but he is called away to answer a question about Christmas lights for an event. It's a mile-a-minute with ACAN, and the enthusiasm is infectious.
Joseph Cervantes Montaño is nine years old, and he's a student in one of ACAN's free music classes on Tuesdays at CHISPA's Roosevelt Townhomes. Although he's only been playing saxophone for a month, he exudes confidence.
"I want to play in a big band," he says. Montaño also plays snare drum, and has already marched with the All-Star Drumline in the Veterans Day Parade and the Holiday Parade of Lights, and participated in a special Christmas tree-lighting presentation.
His teacher Barry Capiaux, a native of Salinas, is right at home onstage. Capiaux has been all over the world with music, and wants his students, many of whom are playing an instrument for the first time, to have the same opportunities.
"The reason we need music education, is to give those students that have the skills and the talent and that want to perform music, they need to have the opportunity to do so in the right way . . . I feel like every time I have a new student in one of my music classes, it's almost like planting a seed."—Barry Capiaux, ACAN Teacher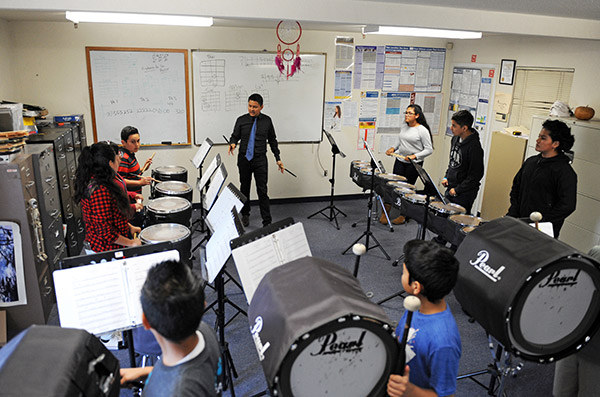 In describing the importance of ACAN's work, Alfaro uses a Greek proverb as illustration: "A society grows great when old men plant trees whose shade they know they shall never sit in."
"We have staff members and parents, even participants, that are of an older age, in their late teens or even in college, that often comment on how they wish they had these opportunities when they were younger." More than anything, he says, ACAN wants "to give youth a sense of dignity."
Alfaro's dream is to have "a jewel the community can be proud of" in the form of one or more competitive, touring marching bands. To that end, he founded the Central Coast Performance Circuit, which ACAN also supports.
"Every single ensemble in the schools is competitive, and every single CHISPA group goes to the competitions we started," Alfaro says. This approach to competition is central to ACAN's aim to create pride and build character through contributing to a team effort.
"Music really brings people together," says Capiaux, "it helps young students get a better idea of being part of the team, where there is no other team."
"They're just a team together and not trying to go against anybody, they're all trying to do something at the same time, the exact same way . . . Music helps instill the idea of friendly competition, that it's not just all about 'I beat you, or I win,' it's more about just trying to do the best you can."
Alisal Center for the Fine Arts (ACFA) program manager and percussionist Javier Tamayo grew up in east Salinas, and he agrees about the importance of striving to do one's best. "We do performances sometimes with our groups, and the performances are cool, but what I really think are gold are the rehearsals."
"These kids come, out of their own time, willingly, and rehearse, sometimes during their vacations, for three hours a day. And I think if you develop that kind of discipline to work on something you like, those traits can transfer into other aspects of your life."—Javier Tamayo, ACFA program manager
The pros from the Monterey Jazz Festival have packed up, leaving a warm glow behind after the jam session. ACAN's Latin Jazz Orchestra takes up the slow, swinging rhythms of the piece they were practicing, and remarkably, it's hard to notice the absence of the professionals.
"It's not just for now that we need to be doing music education, it's for the future," says Capiaux, with passion.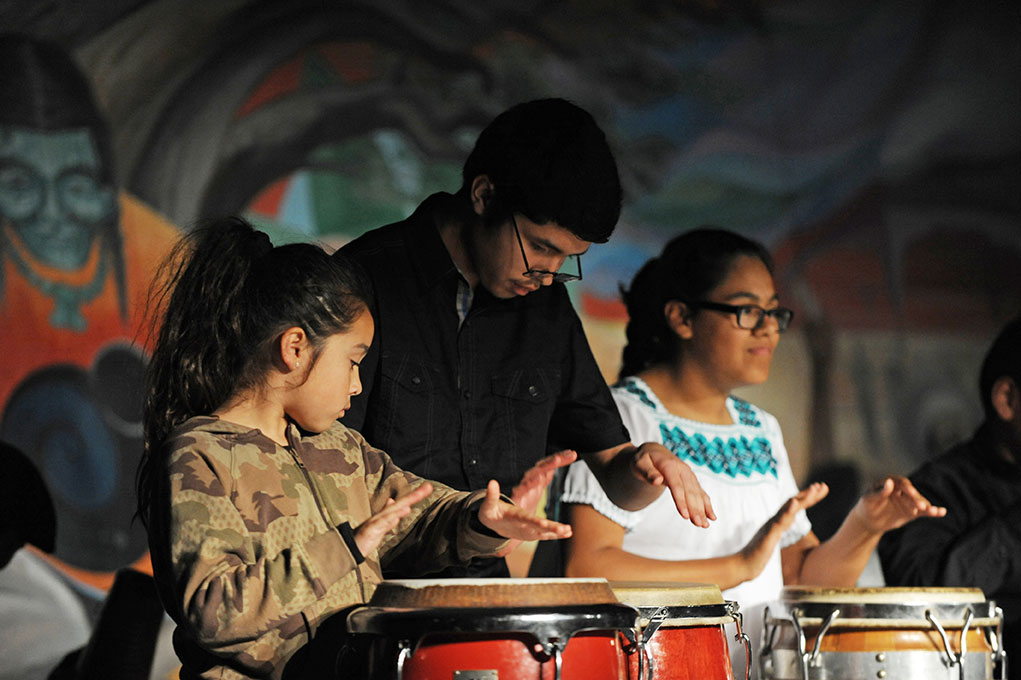 "We live in such a cultural place, we want our students to grow up and be able to play this kind of music", he continues, "mariachis, bandas, rock groups, but if they don't have the instruction…"
"We need to have true authentic, human experiences through music, and the only way you can get that true experience is by learning an instrument, and that's what we're here for."
For more information about the Alisal Community Arts Network,
please visit them on Facebook at Alisal Percussion