When Alex Reynoso talks to Salinas youth and their parents about joining El Camino Real Futbol, a youth soccer league in Salinas, he feeds their hopes of one day going pro.
---
"We're trying to make professional soccer players—and journalists, lawyers and architects," says Reynoso, the league's president. "We're pushing them to aspire to college, education and training so that when they get older, they have a better job and a career."
If they work hard, practice four to five times a week, study their sport and keep up with their academics, it's achievable, he tells them. "We sell the dream; we think it's attainable," he says. "We get them at a young age and help them get to college. The soccer is the carrot so it makes sense in their minds."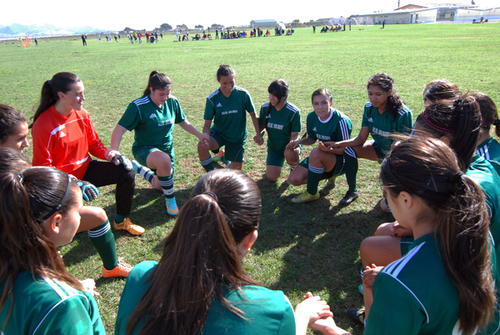 Soccer has been a big motivator for Karina Briseño, the 15-year-old captain of the Thundergirls, a Camino Real team for girls under 18. "With all the work I've put into soccer, I've really become a better person," she says. "As a captain, I feel like you're supposed to be a role model and supposed to do the right thing. It's given me a leadership role."
Her parents require her to get good grades—"at least a B," Briseño says, in order to be allowed to play. "I have straight A's right now so it's not really a problem."
Her teammate, Eliza Ramirez, also a member of the Thundergirls, says playing soccer helps keep kids out of trouble and away from gangs, a significant risk for youth in Salinas. "Some of my friends are kind of on that path," she says. They don't play sports and she worries they may end up dropping out of high school. The girls she plays with on the soccer fields—"we've been together a long time and we're really close, we're family."
On a recent Saturday, the Thundergirls were doing pre-game warm-ups at Bolsa Knolls Middle School in Salinas. The girls stretched and jogged, then practiced their passes, while coach Alonso Marquez shouted encouragement. The league gives young players the chance to play in a more competitive atmosphere, challenging them to be better players and people, Marquez says. Practicing three times a week also keeps them busy, he says, "so there's no time for them to be in gangs."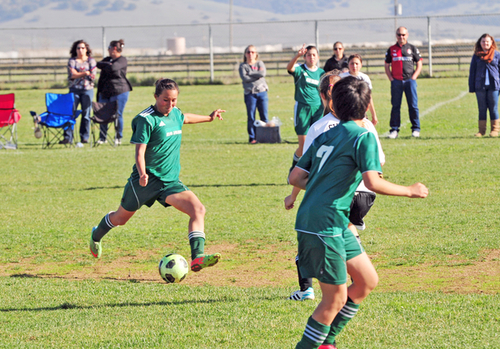 Reynoso, the league's president, grew up in nearby Watsonville, where his parents worked their way up from being farmworkers to sharecroppers to owners of a specialty grocery store. He started playing soccer in kindergarten and kept playing all the way through high school.
"The best thing my father did was drop me off at soccer when I was 5," he says. "It was an outlet to be around folks who had positive goals."
There were times growing up when he could have gone in a different direction, Reynoso says, because "I was hanging out with folks who were not very productive or were in gangs." But soccer and the influence of his mother kept him on a healthy path. "I worked my way through sports—and my mom made me an offer I couldn't refuse," he recalls with a laugh.
Recently, Reynoso has been working to boost the league's focus on academics. Now every kid in the league must bring a packet to their teacher, telling them about the league and encouraging coordination between the teacher, coaches and parents. The student is required to fill out a weekly homework log to be certified by the teacher.
"We all agree to monitor this kid, this person," Reynoso says. If the student-players aren't doing their homework or keeping up their grades, coaches and parents are informed and parents may decide to hold their child out of practices or games.
"Our message is there's nothing more important than your homework," Reynoso says. "First comes your academics and your family; then comes soccer."
Fostering kids' sense of possibility is critical to giving them a shot at having a better life, says Richard Mussallem, a league Board member. He co-founded the league six years ago as a way to give talented young players from Salinas a chance to compete at higher levels and to travel regionally and even nationally. Today, the league's 14 boys' teams and six girls' teams regularly compete at the highest levels. In 2013, the Pumas, a team of 13- and 14-year old boys, made it to the Far West Regional Championship of the US Youth Soccer Association in Hawaii.
Mussallem and Reynoso are proud to be developing the talent of soccer players in Salinas—and there are a lot of talented players there. One is among the top three goalies in the nation; others may compete for a spot on the U.S. Olympic team. But he seems even prouder of this fact: Of 18 boys who were members until 2010 of the Salinas Blast team, 16 or 17 have gone on to college.
"We're achieving our goals," he says.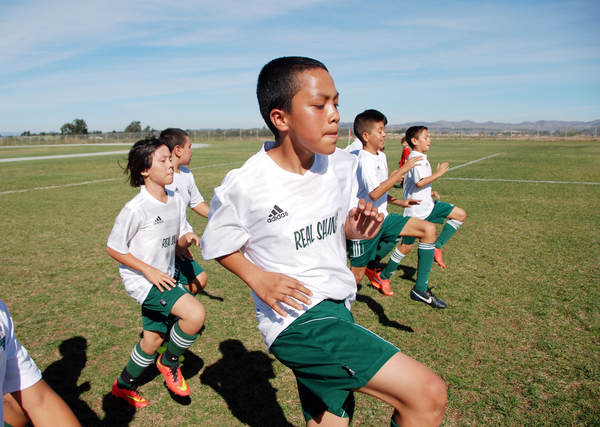 For more information about El Camino Real Futbol League, visit www.elcaminorealfutbol.org.