It's 2:30 pm and Cesar Chavez Library in Salinas is filling up with kids. Graciela Flores taps them on the head—"40, 41, 42"—as they sign in to the homework center. Over the next two hours, about 60 Salinas schoolchildren will come to the library to work—with help from some exceptional tutors.
---
Tutoring has emerged as a key strategy for boosting educational achievement in a city where, in 2010, 38 percent of people over 25 hadn't completed high school and only 10 percent had graduated from college. "It's always a balance between having good quality tutoring and tutoring as many students as you can manage in one place", says Ernesto Lizaola, community education manager for the City of Salinas. "Even with all the work we're doing at the centers we have, there is still a lot of need."
The program offers help at multiple sites, including the Chavez Library, and also at Sherwood, Los Padres, and Roosevelt Elementary Schools in East Salinas. The tutoring program makes use of one of the community's biggest untapped assets—young people who wanted to give back. People like Marissa Flores.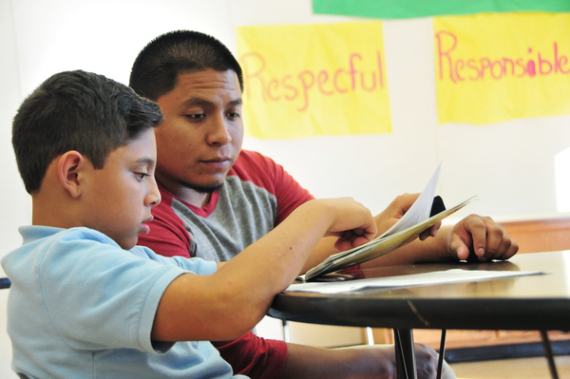 Marissa, a Salinas native who graduated from the University of California, Davis (UC Davis) with a Bachelor of Science in environmental toxicology, began volunteering as a tutor when she was 15. "I had to come here," she says, "if I wanted to spend time with my mom."
She's only half-kidding. Her mother, Graciela, has been working with kids since Marissa was little. Growing up in Patzcuaro, Mexico, Graciela had wanted to become a teacher. Instead, she came to the United States 25 years ago and worked in the fields. She also studied English at Hartnell College, volunteered at her daughter's elementary school, and became a lunch supervisor, a tutor at the YMCA, and then the manager of the library's tutoring center. Her younger daughter, Natalie, now a freshman at UC Davis, began tutoring as a volunteer, then a student, then as a staff member. "This is the family business," Graciela jokes.
Ernesto Lizaola also grew up in Salinas, and remembers the Chavez Library well. Now, as manager of the tutoring program for the city, he has a colorful office there, in the heart of it all.
"We have students from everywhere…" he says. "One of the great things about the program here is you have students who are extremely interested in getting the help, and you have the parents who are involved in requesting that help…This makes for a more positive learning environment, because students recognize that they need to be here, and they work harder to improve."
"Our tutors serve as role models for the kids taking part in the homework center," he says with pride. "They themselves were probably at that same place where their students are now, so it's good for them to see peers and people from their own community going to college and striving for a better future."- Ernesto Lizaola, Community Education Manager for the City of Salinas.
Tutor Marissa Flores couldn't stay away from the library even after leaving for college; she'd help out whenever she came back for a break. When she graduated, she became part of the library's team of 22 tutors, each working up to 25 hours a week.
"They're perfect for the job, because they are bilingual, they went to the same schools and came from the same streets as the kids they are tutoring," said former City of Salinas Deputy Librarian Carissa Purnell, now director of the Alisal Family Resource Center. "As a result, kids are less inhibited with them, and more willing to ask questions."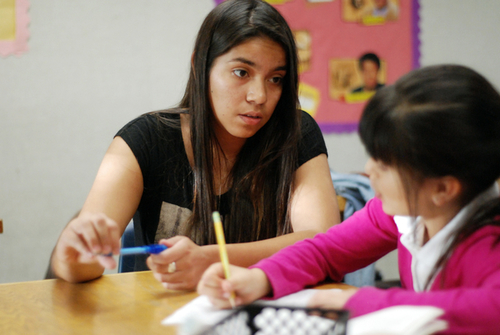 In reality, Marissa says, she worked almost full-time, putting in unpaid hours on nights and weekends and even making house calls. One year, she worked with a boy, Raul, a first-grader with ADHD whose parents spoke no English. She worked with him three hours a day, going over the alphabet and teaching him phonetics.
"I see myself in every kid that comes here," Marissa says. "I know the struggle of being in a household where your parents don't speak English. When I was growing up I got a lot of help. If I don't come back and do my part, who will?"
She points across the room, where Maria Castro, a 7th-grader with a dark ponytail, is helping a boy with spelling. A few years ago, Marissa helped Maria with her first-grade homework; now she helps her learn the skills and patience needed to be a good tutor.
"She gets flustered when kids don't listen," Marissa says. "She'll say: 'Marissa, I don't know how you dealt with us all those years; why did you keep coming?' And I say, 'You'll find out soon enough.' She's learning to be patient."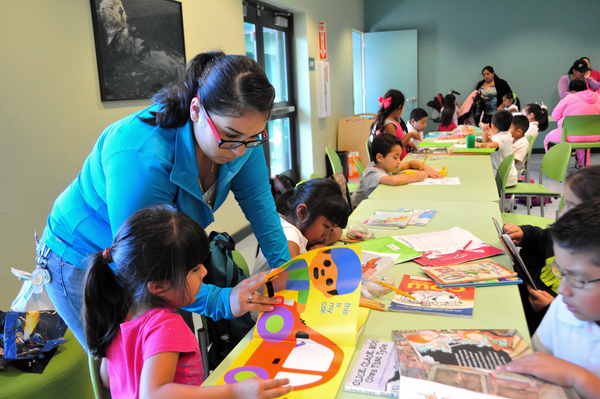 Maria tutored mostly in math and science—her favorite subjects. "They have trouble with algebra," she says. "I'm good at it." Now an Alisal High School student, Maria surely remembers the same advice she gave her young students: "Sometimes I stress out when I'm trying to do something hard. So stick with it and take it one step at a time."
In the back of the room, six-year-old Yuridia is reading "Turtle and Snake Go Camping" under the watchful gaze of Mariana Garcia, an Alisal High School graduate now attending California State University, Monterey Bay. Jesus, also six, comes over with a spelling question and Mariana show him the 'w' he needs to complete his word.
"When I was small, I had no one to teach me math or help me," Mariana says. "I love what I do here, it's more than just a job."
While the tutors work with kids, Graciela Flores connects with each mother who comes to pick up her child. She reminds the kids and parents almost every day that they need to think about college. "Work hard," she says. "Change your life. Then you can do whatever you want." With a little help from the extended family.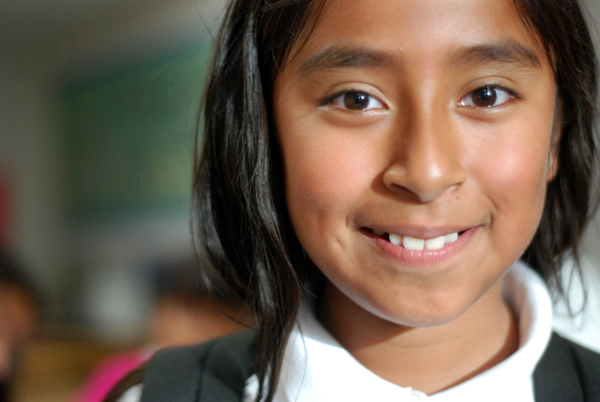 For more information about the Salinas Public Library Tutoring Program, visit www.salinaspubliclibrary.org.