As the late afternoon sun paints everything gold, smiling kids hold their clipboards close as they identify fragrant herbs. Notes are made, and the organic farm tour moves into green fields, bees still at work in the intensifying light.
---
Back toward the road, children happy to work with paintbrushes eagerly create radiant red strawberries on a wall, while others, clutching bags of fresh produce, learn about what happens in a compost pile. There's a school bus in the driveway, ready to head back to East Salinas, but no one seems to want to go just yet.
The field trip is a learning experience brought about by Urban Arts Collaborative (UAC) for kids participating in the Life Is for Everyone (LIFE) after-school program. Everyone knows each other, so it's relaxed and fun. These kids already have an interest in healthy eating, as they have worked together with UAC on a community garden right behind their classrooms in town.
UAC's approach to youth outreach is as all-encompassing and colorful as one of the edible mandalas made by Rudy Jimenez, the group's food justice organizer.
"I come from an agricultural family that has been practicing farming for years," says Jimenez, "understanding how to live in a spiritual place with Mother Nature . . . Everything is interconnected."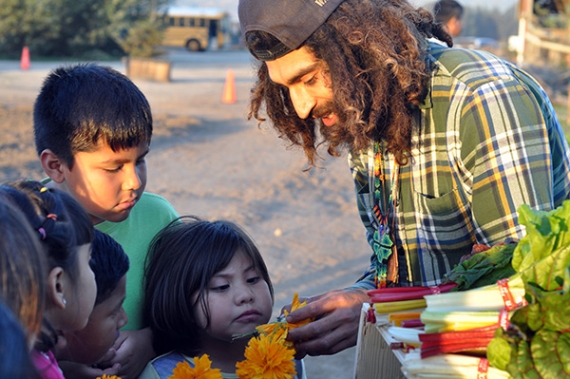 It is no accident that UAC's approach to teaching has many connecting threads. The group aims high, seeking to help develop a world where youth equity, creative expression, land stewardship, food justice, and respect for LGBT rights are all givens, part of a unifying fabric that allows everyone to move forward together.
For founder Juan Carlos Gonzalez, born and raised in Salinas, success begins with providing pathways for youth to succeed. That includes mentoring talented teens like Diana Renteria and Danny Montenegro, both 18, and now UAC staff. Daughter of a proud farmworker family, and a skilled painter, Renteria changed her major to political science while working with UAC on youth equity issues. After learning more about how the city works, one day during a city council meeting, she explains, "It really hit me hard, and for the first time I wanted to be, I wanted to make change."
"Young people need art because it creates a tangible conversation about the issues that they really care about. Art is a catalyst." –Juan Carlos Gonzalez, UAC Founder
Gonzalez explains that first, and perhaps foremost, "as the Salad Bowl of the World, we need our kids to have access to a decent, healthy meal and be ready to learn." After making sure children have "tools to work with and express themselves," Gonzalez would like to help "build a community that is less punitive, that uses art as the main vehicle to engage young people into a healthy life."
"If we as a community came together to create a cultural center," he offers, "then we would be making Salinas a better place, where young people can safely express themselves." Once there are safe spaces and respect for everyone's rights, he says, "young people can successfully transition out of the systems that will oppress them."
The number and variety of projects UAC has taken on reflects their commitment to community health from multiple angles. Many of these initiatives complement each other, supporting and engaging youth in different ways.
For example, UAC is partnering with Rancho Cielo Youth Campus in Salinas, a program that provides education and vocational training to system-impacted youth. Thanks to UAC, the students now also benefit from drawing and art skills classes as well as an introduction to organic farming course.
Gonzalez is also teaching art to formerly-incarcerated youth at Monterey County Juvenile Hall, where part of the support for their re-entry to their communities is an invitation to visit and learn about Green Thumb Organics, run by UAC's Rudy Jimenez.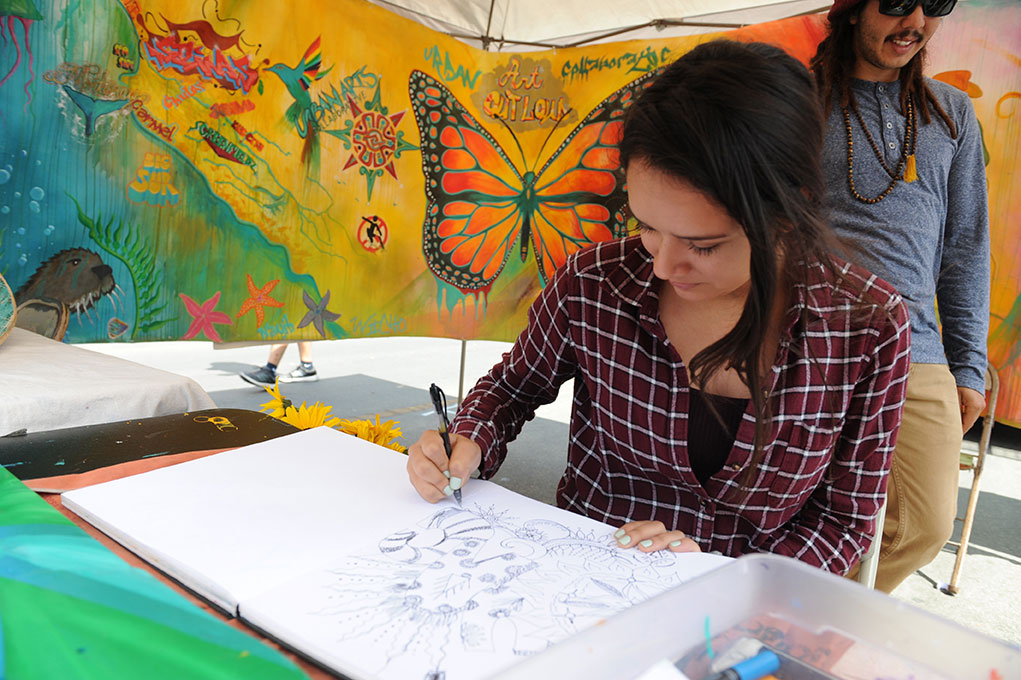 Tackling community health from another angle, as part of UAC's LGBT outreach, the group is collaborating with the Be Yourself Club at Alisal High School. The club is supervised by Alisal's Natalie Bernasconi, who has helped them expand to other Salinas high schools.
Working with The Epicenter in Salinas, the Diversity Center of Santa Cruz County, and California Rural Legal Assistance, UAC created a colorful inclusion float for the El Grito Parade, extending a hand to Spanish-speaking LGBT residents. UAC has also co-sponsored the LatinX LGBTQ Film Festival at Salinas's Maya Cinemas, where artwork created by students will also be on display.
Luis Rodriguez and Danny Montenegro of UAC have helped guide these outreach efforts. Rodriguez, 27, is the group's project coordinator, and was doing his own organizing in Natividad Creek Park before coming aboard in 2014. His interests in art, skateboarding, and healthy eating are helping UAC engage a whole new group of youth.
"What I envision is the city investing in this organization, creating a space where we would have a centralized location to provide access to resources for youth, for adults, for the elderly."—Luis Rodriguez, UAC Project Coordinator
Rodriguez's ideas are entirely in keeping with the vision of Salinas as an agricultural Mecca: a "healthy hub," where grassroots organizations might find support, where a community kitchen and garden might offer workshops on cooking and sustainable practices, where budding entrepreneurs might test ideas. Thanks to UAC's dedication to its vision, there is imaginative beauty gracing Main Street in Oldtown Salinas, nature-themed public art in nearby Soledad, and a new mural at the ALBA farm.
"Changing the narrative" is not just a phrase to members of UAC. "It's really inspiring to be around the other artists here because we all have the same goal: to make Salinas a better place," says Montenegro. "For me, it's been a great opportunity, being so young . . . It takes a long time to change a community, and a lot of people to do so, but here we are, one step at a time, making it happen."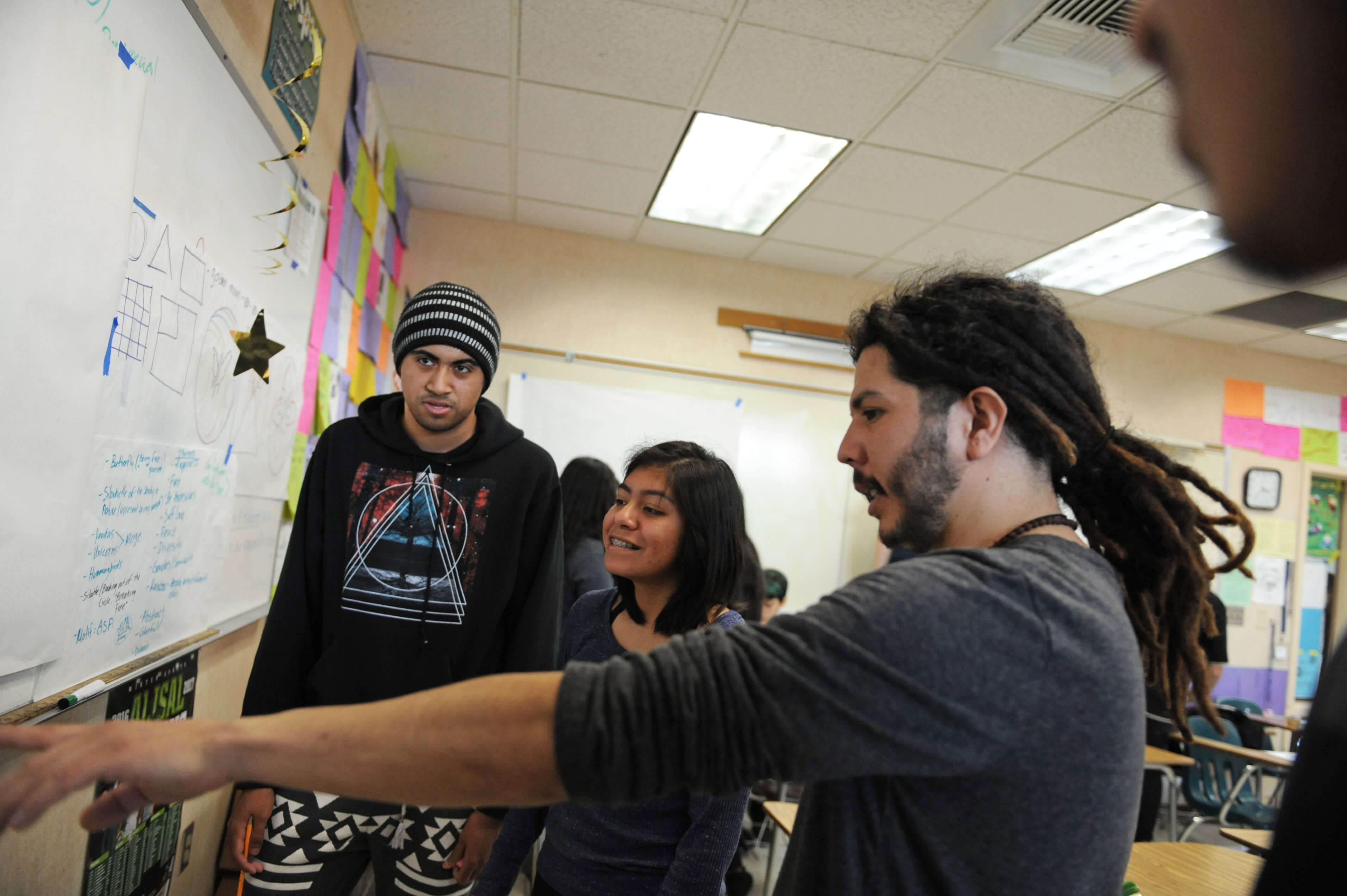 For more information about Urban Arts Collaborative,
please visit them at
@UrbanArtsCo on Twitter and Instagram
UrbanArtsCo on Snapchat, Urban Arts on LinkedIn
Urban Arts Collaborative "Nature is Art – Art is Healing" on Facebook