Nayeli Sanchez (not her real name) positions a small, motorized robot made of Legos on a long table crowded with obstacles, then presses a button on its top. The vehicle rolls forward, executes a series of turns and abruptly brings two red-and-white arms rapidly downward, launching a small blue ball toward a goal. The ball flies low, striking a wall in front of the goal.
---
Gissell Vargas, Nayeli's partner, picks up the robot and the two girls return to their laptop computer to make adjustments to the program controlling the robot's actions. "This one makes it go forward, this one makes it turn," Nayeli explains, pointing to a series of steps on the screen.
The two girls, both in middle school, finish their tweak and return the robot to the table. It goes off course, bumps a wall and gets stuck. "Bad robot!" Gissell says. They make another adjustment and try again. This time, the ball soars into the net. Goal! The girls cheer and instructor Jerry Gleason offers praise. Then it's back to the computer to add a few more steps: the robot must return to base.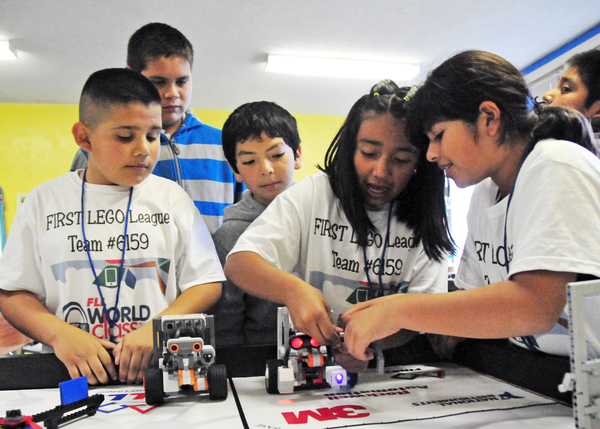 It's Wednesday afternoon at the after-school tutoring program Life Is For Everyone (LIFE) at East Salinas Family Center. Four afternoons a week, 46 elementary and middle school children come here to do homework, eat healthy snacks and get tutoring support. The program aims to reduce a nagging achievement gap that has left Latino kids in Salinas, mostly children of immigrant farmworkers, scoring far below grade level in reading, math and science.
"Most of these kids don't speak any English until they go to school," says Marlene Vanzant, the program's director. "They start school at a disadvantage and when they go home, there's often no one that can help them with their homework. We do our best to get them on track."
For kids in grades 1 to 3, the program focuses on helping kids learn to read because "from that point on, they have to read in order to learn," says Jerry Gleason, a retired Hewlett Packard engineer, who comes to the program on Wednesdays once a week to teach science and math. If kids aren't reading at grade level in third grade, they're prone to falling further behind, he says. "If kids can't read at that point, and don't develop an ability to gain education skills, they become open to the possibilities of what gangs have to offer. It's a very important time."
A retired teacher assesses each child at the beginning of each school year and other volunteers follow their progress closely, coordinating with teachers at students' schools and tailoring their assistance to each child's needs. For example, a girl in first grade who was unable to write her name when she started with the program in September has been working one-on-one with a tutor and is making slow but steady progress in reading and writing, Vanzant says.
LIFE also provides computer access to the kids and makes use of on-line math sites like Kahn Academy to track their progress. These techniques help most kids achieve a 10 percent boost in math performance in the course of a year, says Gaile Patton, another volunteer who chairs the program's board of directors.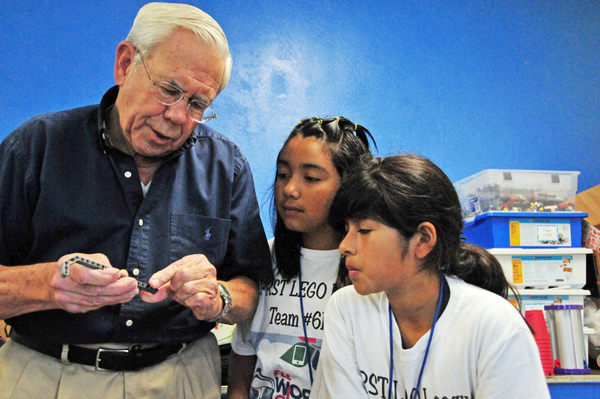 Gleason has been working with LIFE for a decade and created its STEM (Science, Technology, Engineering and Math) curriculum. His class centers on use of the Lego robots, in keeping with his philosophy of using "model-based learning" to provide immediate feedback and lessons. His students get to be part of the international First Lego League and take part in tournaments. Gissell says the program gives her a chance "to do technology and math, and learn about computer programming." Her partner, Nayeli, says she likes Gleason's class because "I get to learn about Legos and have fun at the same time.
The Lego robots offer a great way to sneak science and math lessons into an activity the kids really enjoy, Gleason says. "It's fun to build Lego robots but they're just statues unless they have a specific mission," he says. "These kids have to write a computer program, load it into the robot and then the robot will do a task. You get a lot of interesting behavior, a lot of failure."
When things don't go right, "we just go back and start with the basics," says Donovan Taylor (not his real name), a 6th grader. "That's a good way to learn—to learn from your mistakes and try again." He started coming to the program last year and hopes he'll be able to continue next year.
"I'm very busy; I have a lot of balls juggling in the air—doing my homework, trying to get a good education, taking care of my baby brother," Donovan says. "I have to change his diapers, make his food, clean his bed, everything."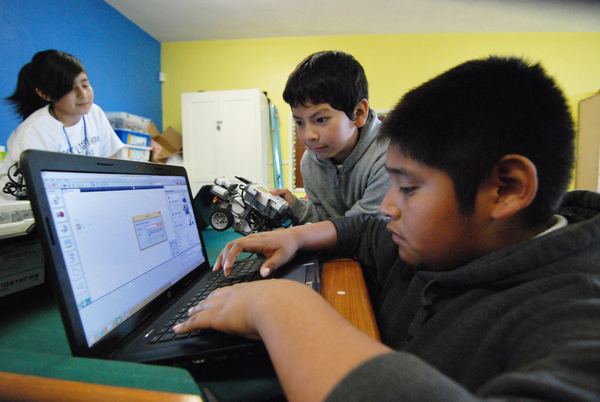 Bryant Jimenez has been coming to LIFE since he was in 4th grade. He's now 16 and in 10th grade—and in his second year as a volunteer. "This place kind of stuck to me since I spent most of my childhood here," he says. His parents, both farmworkers, get home late so the program gives him a place to go and connect with other people.
"A part of me won't let this place go because I'm too attached to it," Bryant says. "This is the place where I stopped being shy and started to be more outgoing. It's the place where I learned I can do more with who I am, feel more comfortable around people and be successful some day."
For more information about Life Is For Everyone, visit www.lifeisforeveryoneinc.org.